A previous application is installed and running on the factory floor.
HMI screens communicating with ladder logic, starting & stopping pumps and machine functions.
Digital and Analog I/O values coming to the HMI screen OK.
I can make changes to the screens and download to the HMI successfully.
With EasyRemoteI/O I can view the modules, scan them, and see live values on my laptop just as they appear on the HMI.
But when I open Codesys ladder and try to login, I get an error message:
"No connection to the device. Please rescan your network".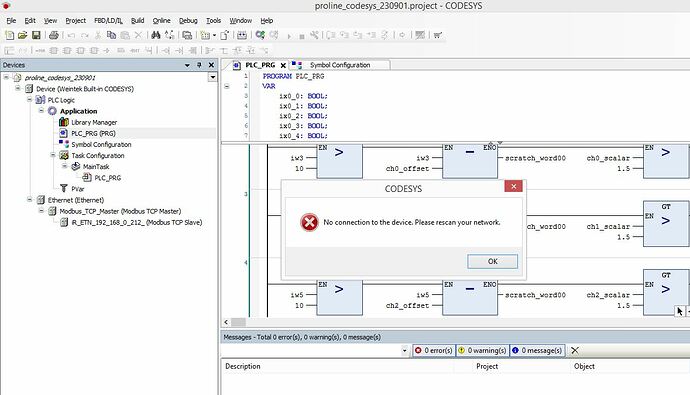 Pretty sure the IP addresses are all OK, laptop communicates with HMI, laptop communicated with IRETN module, and the ladder logic communicates with I/O.
Is this asking for a rescan of the I/O with Easy Remote I/O?
I can do this but not sure it is the problem. If it is needed, how do I give the Codesys a "fresh look" at the **.eriop file from Easy Remote I/O?
Thanks in advance for your help.